Ultra Luxe 'ARTISTRY' Clusters - Style #3
ECO FRIENDLY Paper Packaging
MODELROCK's 'ARTISTRY CLUSTERS' will take your lash customisation to the next level.
ARTISTRY clusters are our newest 'GLAM' edition to our Ultra Luxe range.
Our ULTRA LUXE 'ARTISTRY CLUSTER Individual Lashes have been made from the finest grade synthetic silk materials and are on trend to give your eyes that world class luxury lash look that celebrities and lash fashionistas Love !
ARTISTRY Style 3 clusters are a structured 'V' style cluster with beautiful soft, tapered tips on a superfine, seemless lash base giving you a speedier application and a gorgeous structured lash look. Create a full lash look with the structured 'V' clusters OR add the structured 'V' clusters in togther with other lash styles to create your own customised look!
They have been designed with a seemless lash base that will give the most seemless appearance to the eyes with an effortless application process - create a gorgeous Multidimensional lash look that is ultra-light and wispy.
ARTISTRY CLUSTERS - Style #3
Mixed Lengths 10mm-12mm-14mm
LOVED by Makeup artists across the Globe MODELROCK's Original ULTRA LUXE individual lashes have set a trend in Professional lash customisation since our custom designing of our original ULTRA LUXE Individuals in 2012.

**Adhesive NOT included - Adhesive Can be purchased separately**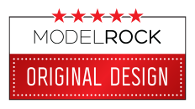 (MRL2076)